"Dollymix" By MAC
Definitely one of my favorite MAC blushes, It's very pigmented and you only need one swip, you can easily look like a clown with this one.It makes your cheeks look very rosy, I'd say it's one of those blushes that can give your cheeks that dolly look. It's shimmery, but not over loaded with shimmer to make you look like a disco ball.
To anyone this blush would look very bright and scary in the pan, however once applied it gives natural pretty rose flushed cheeks! Just one touch of this blush is more than enough, so when using this blush you need to be very careful of falling victim to the dreaded clown cheeks.
To avoid this make sure to start off with very little, and build as you go along to get the look that you want to achieve. I know this looks like a hot pink blush, but with a light hand it applies sheerly and still very evenly and blend-able, and can be build up to take on any skin-tone.
"Fleur Power" By MAC
It's a beautiful light coral color and it gives a very feminine and girly look. It looks really natural and it's one of the few blushes that I can apply pretty heavily while still looking natural. This is a matte ,very pigmented blush ,has no shimmer at all.
For all of your who like pink shades but also like coral shades which are so in right now, this is the most perfect in-between color.
Fleur Power & Dollymix
SWATCHES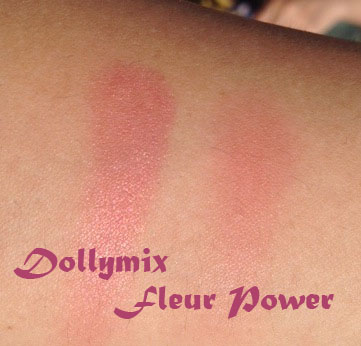 Comments
comments
Powered by Facebook Comments