Miami, like any city, has good parts and bad. But it is also a city that no one wants to miss. One tip: if you are short on time, pick one area of Miami and stick with it. Moving around is not always easy and you may spend all your precious time in traffic. However, there are also many attractions that are within 50 miles of Miami that you may want to hit. No matter what your time tables, there is something for you to do in Miami. Here are some ideas of things you may like to do during your visit.
Southbeach:
Even if you are the type of traveler who likes to stay away from "touristy" attractions, you will have to make an exception for South Beach. Trying to describe this area of Miami in words is like trying thread a needle while wearing a thimble. But here goes. First, you can experience the money. If you are an average working person, South Beach will give you a chance to see up close what it is like to be über rich. From designer clad fashionistas to every luxury car you can imagine, you will see all of it right in front of your nose. Second, experience the architecture. Miami Vice made this area famous in the 1980s and the Art Deco style in pinks, yellows and blues is like nowhere else in the world. Be sure you stop at The Clevelander, one of the best bars and clubs on Ocean Drive and 10th Street. Even if you simply stop for a cup of coffee on the sidewalk and people watch, be sure to go inside the lobby and look around. Third, experience Lincoln Road. This is a pedestrian mall filled with unique shops and lots of great places to eat and drink. If you want unique experiences at a place that has a relatively long history (since 1930) this is a great place to go. Also, the people watching is superb here. Lastly, see Versace's house. Sadly, he was murdered on the sidewalk here in 1997, but just to walk by and see this home is worthwhile. It is very near the main drag of South Beach. Today, the building is a hotel ($1200-$4000 per night) and a private members club.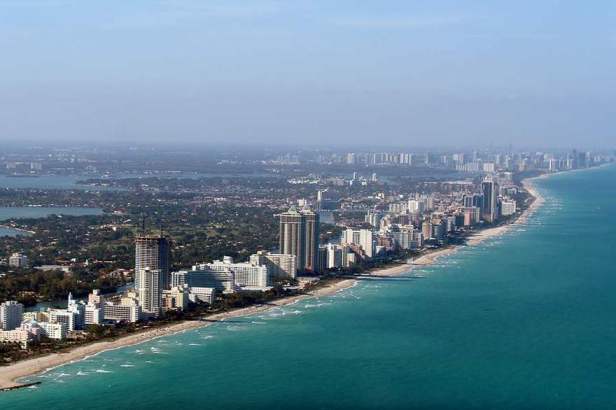 Sports and Concerts:
Miami is home to great sports. Depending on when you are visiting, these venues have many different bands and singers scheduled throughout the year. If you are lucky, maybe your favorite artist will be in Miami when you are. With four large sporting arenas in Miami, it is probable you can catch a great show.
Restaurants:
Michaels Genuine Food and Drinkhttp://michaelsgenuine.com/ offers Panini's salads and is famous for their pastry chef Hedy Goldsmith. It is moderate priced and in a relaxed non-phrenetic location. Be prepared to see a lot of pork on the menu including fried pig ears. Parking is easy and there is both indoor and outdoor seating. Since Miami is famous for its Cuban food, you may consider staying around South Beach at eating at Puerto Sagua. This eatery is well established, in business since 1968, and offers food for breakfast lunch and dinner. This is some of the most authentic food you can get in Miami, so be sure to stop by.
http://miami.citysearch.com/profile/2504803/miami_beach_fl/puerto_sagua_restaurant.html
Kids and Family:
Miami does tend to cater to the young adult party crowd, but even if you are travelling with kids, you can find many things to do. One attraction is the Miami zoo http://www.miamimetrozoo.com/index.asp. They have over 700 animals in a cage free environment and lots of shows and hands on attractions for kids. Another great place is the Museum of Discovery and Science. It actually is in Fort Lauderdale, but it is a short drive from Miami and depending on how you are coming to Miami, you may pass by on the way in. It has lots of fun things to see and do and it has an IMAX theatre. It is near an area called "The River" which has shops and restaurants and is very near water. http://www.mods.org/home.htm. Finally Everglades National Park is a great place for the kids. Families can take various walking tours, camp and bike. If you are lucky, you may see an alligator or a Florida Panther. http://miami.about.com/od/natureenvironment/a/everglades.htm
Miami is a great town and it is hard to select just a few things to do out all the wonders that exist there. But no matter what you decide, you will experience a city that is like no other place in the world.
Comments
comments
Powered by Facebook Comments