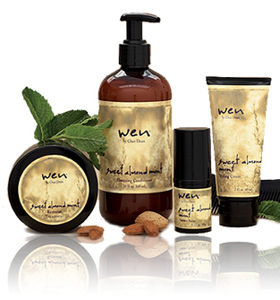 I've  started using this product about a month ago and I love love love it!!
The wen system has to be the best hair product I have ever tried for my crazy hair. I have thin and fine hair and now I finally get some fullness to my hair. I gave away all my other hair products . Now even my boyfriend is using it and it is great, no more annoying knots in my long hair. I really love the WEN system.
I have the styling cream, the texture balm, the hair oil and hair mask. The lavender is my favorite of all and I also like the sweet almond. I was also ordering the product as birthday gifts to my friends and family. Everyone who I gave it to likes it very much it and have stopped using their regular hair products. I ordered the fig scent for my mom ,she will be visiting this week so I will try it when she is here, this supposed to be for dry and damaged hair and I would like to see how it works on my hair that just got bleached blond a few days ago.
WEN has a different concept, it does not lather and you leave it on while you take a shower. Some people may just not get this no lather thing. I saw a difference the first time I used it and I bet You will too. I would highly recommend this.
If you want to try it, you can order the kit here —> 

Comments
comments
Powered by Facebook Comments