[fb_button]
Do you like nail art? I know that I do..
As a nail designer I always look for new and innovative ways to surprise my clients, that's why my first reaction when I heard about this unique nail polish was that I have to get it, I ordered 4 colors online and was really excited to get them.
When they finally arrived, I of course, started suggesting it to my clients and they all loved it.
It lasted on artificial nails for 3 weeks without chipping or breaking, and on natural nails for about 4-5 days.
This nail polish bottle may look ordinary, but it's not, it has a cap with a black rectangle on it, this rectangle is the magnet that is responsible for this magnificent nail art.
In order to achieve this effect, you need to apply one coat of this nail polish on your nails, wait for it to dry a bit (for best results wait for about one minute)  and then apply another coat on one nail at a time, once you apply the second coat,while it's still wet, immediately take the cap with the magnet and hold it over the nail, do not touch the nail surface, you will immediately see the effect. Apply polish to all nails and then use your favorite top coat.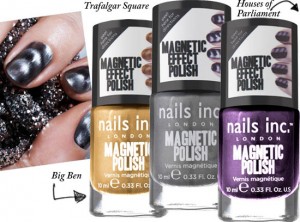 Magentic Nail Polish Pros and Cons:
Pros:
Easy to use
Unique
Affordable price
Stays on nails for a relatively long period of time
Cons:
Bottom line : Buy it! you'll love this product.
Comments
comments
Powered by Facebook Comments